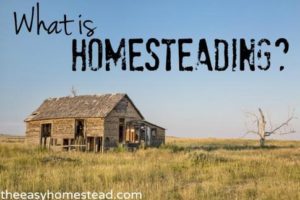 Borrowing from Wikipedia and TheEasyHomestead.com, the definition of "homesteading" is: 
 "A lifestyle of self-sufficiency. It is characterized by subsistence agriculture, home preservation of foodstuffs, and it may or may not also involve the small scale production of textiles, clothing, and craftwork for household use or sale." 
 It can involve a few acres to a hundred acres or it can be done in your own suburban backyard.  It is about living the life extraordinary by making life simple.  But if you have ever needed an example of how living "simple" does not necessarily mean living "easy" — then all you need to do is try homesteading . . .